Internet Setup for Macintosh OS X
Click on the Apple menu
Click on System Preferences...
Click on the Network icon.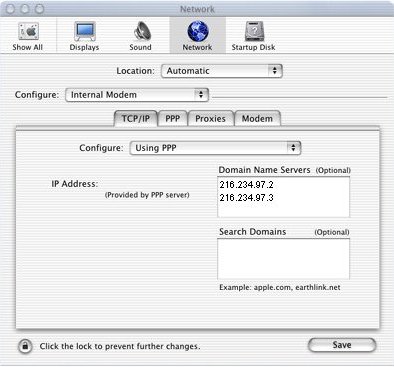 On the Main Screen
Location:
Select Automatic
Configure:
Select Internal Modem
---
Under the TCP/IP tab:

Configure:
Select Using PPP

Domain Name Servers
Type in 216.234.97.2 and 216.234.97.3

Search Domains
Leave Blank
---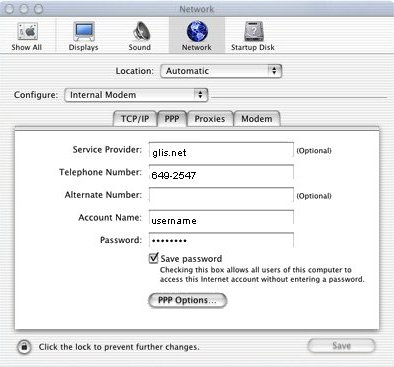 Under the PPP tab:
Service Provider:
Type in glis.net
Telephone Number:
Type in the phone number for your area in the blank field.
To locate a access number click here. Access Numbers
Account Name:
Type in your username.
Password:
Type in your password.
Remember! Username and Password are case-sensitive.
Check Save password
Click the PPP Options... button. Screen shot shown below
---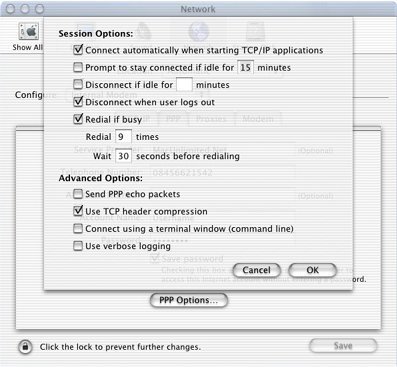 Check and Uncheck as shown above.
Click the OK button when done.
---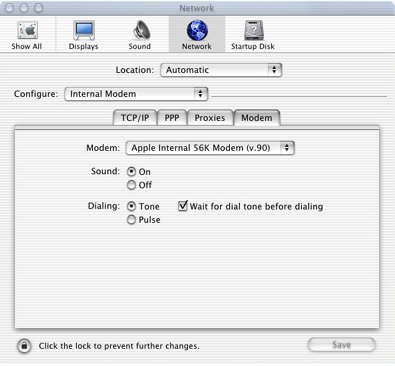 Under the Modem tab:
Modem:
Select your modem.
Sound:
Select either On or Off.
Dialing:
Select either Tone or Pulse, the correct option your phone using.
Check Wait for dial tone before dialing.
Your Done!
Click the Save button.
---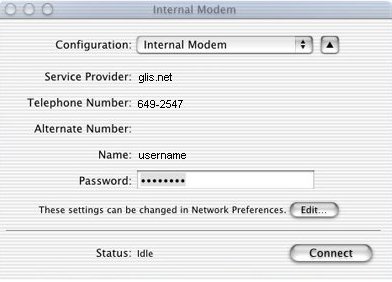 By clicking on any Internet program will bring up the connection screen.
Just click the Connect button.
Back to Macintosh Contents